---
Get Screened
Why get screened?
Screening mammograms are the best way to find breast cancer early, when treatment may work better.
Who should get screened?
If you're 50 to 74 years of age, start making mammograms part of your regular health routine. The risk (chance) of breast cancer increases as you get older. Follow these guidelines to know when to get screened:
Women younger than 40: The risk of breast cancer at this age is low. Generally, screening mammograms aren't needed before the age of 40. Talk to your healthcare provider if you're concerned about having an increased risk of breast cancer.
Women 40 to 49: It's less clear that the benefits of mammograms outweigh the risks for women in this age group. Talk to your healthcare provider about your breast cancer risk and your need for mammograms.
Women 50 to 74: Breast cancer screening is proven to have the most benefit within this age range. Have a mammogram every 2 years or as decided by you and your healthcare provider.
Women 75 and older: The benefits of continuing to screen once you turn 75 depend on your personal health (how healthy you are overall). Talk to your healthcare provider about whether or not continuing to screen is right for you. If you choose to continue screening, the Alberta Breast Cancer Screening Program in Alberta Health Services will no longer send you reminder letters to screen once you turn 75.
Unsure if breast cancer screening is right for you? Try the Risk Calculator.
What if I have breast implants?
Breast cancer screening is still very important if you have breast implants. Implants can interfere with screening mammograms, so you'll need more images in order to detect (find) abnormal changes. Remember to let the radiology clinic know that you have breast implants when booking your mammogram appointment.
What is a mammogram?
A mammogram is an x-ray of the breast. There are 2 different kinds of mammograms: screening and diagnostic.
Screening mammograms
Screening mammograms are regular checks used to find early signs of cancer in women who have no noticeable breast problems or symptoms. They can find abnormal changes in the breast that are too small to be felt by you or your healthcare provider. If your screening mammogram finds any abnormal changes, your healthcare provider may recommend having a diagnostic mammogram.
Diagnostic mammograms
Diagnostic mammograms take more images for a closer look at the area of concern found on a screening mammogram. They're also used for women who've had breast cancer before or who notice unusual breast changes, such as:
A new lump in the breast or armpit
A nipple that's pointed inward (inverted nipple), if it isn't usually
Crusting, bleeding or a rash on the nipple
Unusual fluid coming from the nipple (nipple discharge)
Dimpling or thickening of the skin in one area of the breast
If you think you need a diagnostic mammogram, speak to your healthcare provider for a referral.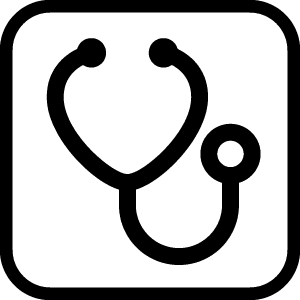 If you don't have a healthcare provider, check out these resources to help find one:
What to expect with a mammogram
You might have a few questions about how a mammogram is done. The process itself should only take about 10 minutes and will be done by a female technologist to help you feel comfortable and at ease.
How should I prepare for a mammogram?
On the day of your appointment you should:
Wear a separate top and bottom as you'll have to remove clothing from the waist up.
Avoid wearing perfume, antiperspirant, deodorant and body powder. These can affect the mammogram results.
What happens during a mammogram?
Once you're standing in front of the mammography machine:
One breast at a time is positioned (placed) on the machine. The machine will be adjusted to your height.
A second plate will press down on your breast for a few seconds to spread out the breast tissue so that small abnormalities can be seen.
For a screening mammogram, 2 x-rays will be taken of each breast; 1 from the top and 1 from the side. Several more x-rays are taken for diagnostic mammograms. If tomosynthesis is used, multiple x-ray images are taken to create a video-like view of each breast. Learn more about tomosynthesis under frequently asked questions.
These x-rays will then be looked at by a radiologist for any abnormal changes.
Once the exam has been reviewed by a radiologist, you'll receive a result letter in the mail from the Alberta Breast Cancer Screening Program. Learn more about getting your mammogram results.
Does a mammogram hurt?
Your breasts need to be compressed (flattened) to get the best image possible. This may be uncomfortable or slightly painful, but tolerable. Each compression only lasts a few seconds, so any discomfort will be very short. If you normally have tender breasts, you may find it more comfortable to have your mammogram at least a week before or after your period.
Find out why compression is important when having a mammogram from the BC Cancer Agency Screening Mammography Program.
Benefits and risks of a mammogram
Mammograms are generally very safe. However, as with any procedure, having a mammogram has both benefits and risks.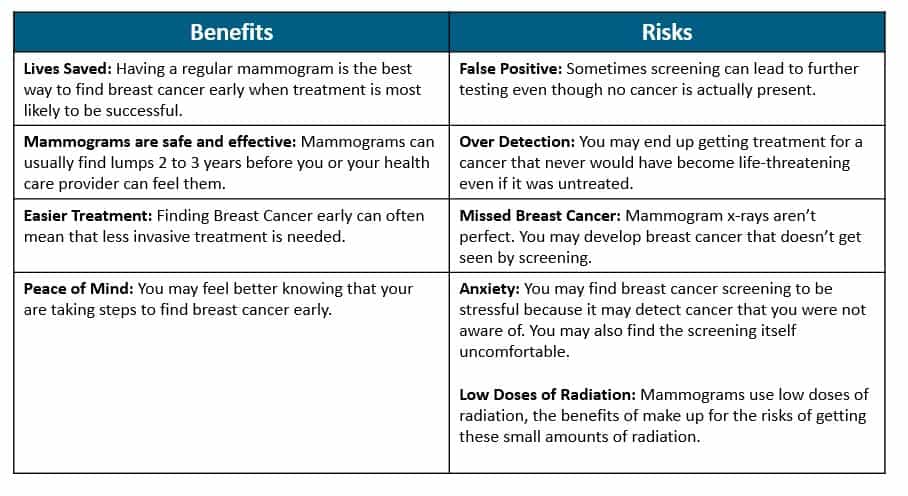 Informed decision making:  Screening for breast cancer is a choice. Make your choice by carefully thinking about the benefits and risks of breast cancer screening. You may experience these benefits or risks in a different way than others. You'll have to decide for yourself if you think the benefits are worth more than the risks. Talk about this with your healthcare provider to help you decide if screening is right for you.
Review the resource below to help you think about how the benefits and risks of breast cancer screening fit with your own personal values.
Making an informed decision about breast cancer screening [booklet]
Where to get screened
Mammograms are done at specific radiology clinics, some hospitals and through mobile screening clinics through Alberta Health Services' Screen Test that travels to over 120 rural communities throughout Alberta. The requirements for booking a screening mammogram in Alberta are different depending on your age:
Women aged 40 to 49: You need a referral from your healthcare provider for your first screening mammogram. After your first mammogram, you can book your regular appointment by providing the name of your healthcare provider at a radiology clinic of your choice.
Women aged 50 to 74: You can book a screening mammogram without a referral. In Alberta, some clinics may need women to have a healthcare provider to book a screening mammogram. This is so that the clinic knows who to send the results to and who will do the follow-up, if needed.
Women aged 75 and older: If you choose to continue screening, you'll need a referral from your healthcare provider.
If you're ready to book your screening mammogram, visit Where to Get Screened to find a complete list of locations, including mobile clinic sites.
LGBTQ2S+ and breast cancer screening    
This section is coming soon.