---
Your Screen Test Appointment
What happens at your Screen Test appointment

Your feedback is important to us.  Please take our online survey.  Thank you!
When you arrive for your appointment, you will fill in a short questionnaire about breast health and your family history of breast cancer. Help yourself to breast health resources while you're waiting. While your mammogram will take about 10 minutes, the whole appointment will last about 45 minutes. After your mammogram you're free to leave. You'll get your results in the mail.
To prepare for your appointment do not use perfume, antiperspirant, deodorant or body powder. Wear a two-piece outfit so that you only have to take off your top.
A screening mammogram is an x-ray of your breasts. A female technologist will ask you if you've noticed changes in your breasts, if you've ever had breast surgery or if you're taking hormones.
Four x-rays will be taken, 1 from the top and 1 from the side of each breast. For each x-ray, a paddle is lowered over the breast to flatten (compress) it for a few seconds. Flattening the breast reduces the amount of radiation needed for the x-ray and helps to make the picture on x-ray clearer. While having the breast flattened can be uncomfortable, it shouldn't hurt. If you feel pain, tell the technologist and she will try to make the exam more comfortable.
Learn more about what to expect with a mammogram
Results
Your mammogram will be read by a radiologist. The results will be mailed to both you and your healthcare provider within about 2 weeks with recommendations about when you should return for your next mammogram.
There are 2 possible results:
Normal result: A normal result means no signs of breast cancer were found. Routine screening mammography is the best way to find breast cancer early when treatment is most effective. Mammography alone may not find all breast cancer. That is why it is important to follow these steps:

Return for your next screening mammogram as recommended by your healthcare provider
Ask your healthcare provider about having a breast exam during your regular health checkup
Know what looks and feels normal for you so you can notice any changes in your breasts
Contact your physician immediately if you notice unusual symptoms, such as:

A lump in your breast or armpit
Crusting, bleeding or a rash on your nipple
Unusual fluid coming from your nipple (called nipple discharge)
Dimpling or thickening of skin in one area of your breast
Abnormal result: While most abnormal results are not cancer (benign), they do mean that more tests are needed. About 7 out of every 100 women will need further tests. See your healthcare provider as soon as possible to discuss your results and to book additional tests. Screen Test will let your healthcare provider know which tests are needed, such as more mammogram views, ultrasound or a biopsy. Screen Test will check with your healthcare provider to ensure follow-up is completed.
Your next mammogram
Screen Test will send you a reminder in the mail when you're due for your next mammogram. If you're having your mammogram on the mobile screening unit, you'll also be sent a list of locations and dates when we will be in your area.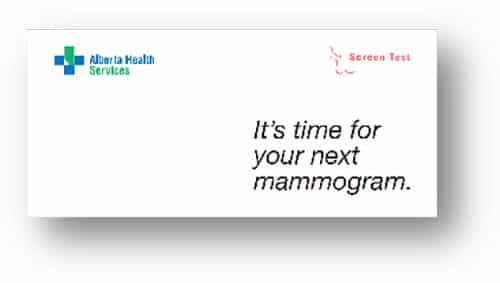 Your return visit is even more important than your first mammogram. The radiologist compares your current and previous mammograms to look for changes – regular mammograms are the best way to find breast cancer early, when treatment may work better.
Client testimonials
"Living 4 hours from Edmonton, I can't stress strongly enough how convenient the mobile clinic is.  I've been able to take advantage of this service for almost 15 years and also want to applaud all the technicians and volunteers with whom I've dealt with in that time for their unfailing pleasantness."  (Bonnyville client, Jan 2019)
"Very convenient. Love being able to walk over and not have to drive to the city. Very friendly staff!" (Sundre client, Mar 2019)
"Would not get screened if the bus did not come to Mayerthorpe!  So glad this service is provided to us!" (Mayerthorpe client, Dec 2018)
"Excellent examination.  Very little discomfort.  So nice to have the mobile unit come to our community.  Thank you." (Taber client, Apr 2018)
"I am so grateful for Alberta Health Services for bringing the mobile clinics to the rural areas of Alberta to help find early cancers.  Keep up the good work." (Barrhead client, Apr 2019)
"Thank you for coming to town.  Because of this service, my cancer was found early.  I had my surgery and radiation.  Already feeling good.  Thanks for coming.  If you weren't coming it would not have been found until it would be too late.  Thanks." (Vermilion client, Nov 2017)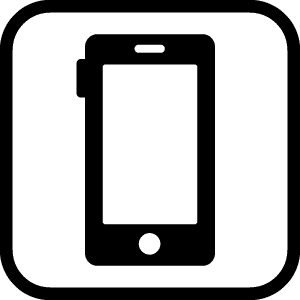 Call Screen Test to book or change an appointment (toll free) 1-800-667-0604